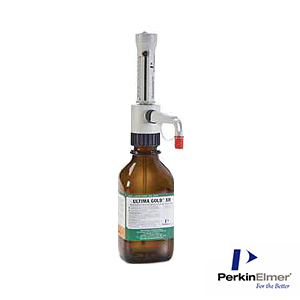 Dispensette

The Dispensette® III permits rapid, repeatable dispensing of exact quantities of reagents. It has a floating piston for seal-free dispensing, an adjustable dispensing angle for optimum readability and safety, plus a telescoping filling tube that can be easily adjusted to many different bottle sizes. A unique SafetyPrime® valve (Product No. 6005736), which avoids waste by recirculating reagent while priming the dispenser, is also available.


􀁎 High accuracy: 0.5% with 0.1% coefficient of variation
􀁎 Ideal for high viscosity fluids.
􀁎 Autoclavable without disassembling
􀁎 Integrated safety discharge system
􀁎 Unique SafetyPrime-1 pt valve (optional)


Dispensettes are delivered complete with a 30/32 mm and 32/45 mm adapter, 250–480 mm long FEP filling tube and discharge tube. All Dispensettes are specifically adapted for dispensing liquids of higher viscosity and fit all of the container sizes.

| | |
| --- | --- |
| Product | Product No. |
| Dispensette, 0.2–2.0 mL | 6005361 |
| Dispensette, 0.5–5.0 mL | 6005360 |
| Dispensette, 1.0–10.0 mL | 6005362 |
| Dispensette III, with SafetyPrime® Valve, 1.0–10.0 mL | 6005375 |
| SafetyPrime-1 pt Venting Valve | 6005376 |